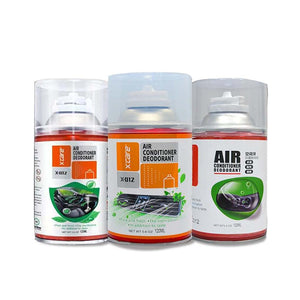 X-Care Odor Eliminator & Refresher 120ml
Do you have a smelly car ? Want to refreshen it with that clean car smell commonly associated with relatively newer cars ? The X-care Car Air-conditioned Deodorant Refreshener eliminates odors and gives your car the fresh and vibrant smell of a new car.
Made from herbs and natural extracts this is an eco-friendly product manufactured in nanotechnology. It helps to prevent the formation of molds, bacteria, and odour causing cigarette smoke in the air conditioner to keep the air inside your car fresh.
How to use :
STEP 1Star your car engine and aircon wth all doors and windows closed then set your aircon or dual aircon to full power.
STEP 2Place the X-care Car Airconditioner Deodorant Refreshener under the glove compartment and push it as far back towards the wall (under the hidden aircon blower area) and press down on the push button to release its contents.
STEP 3Get out of the car and wait for 12-15 minutes while the contents are being released and circulated.
STEP 4After 12-15 minutes, open all car doors and windows while the engine and aircon are still running and wait for 5 minutes.
STEP 5After 5 minutes, shut down the aircon and engine. Retrieve the empty can of X-care Car Air-conditioned Deodorant Refreshener and close all windows and doors and exit the car.
Note : The initial smell of the car will be stronger for the first one or two days but will settle down to give you a pleasant and refreshing long lasting smell of a clean car.
---
We Also Recommend
---