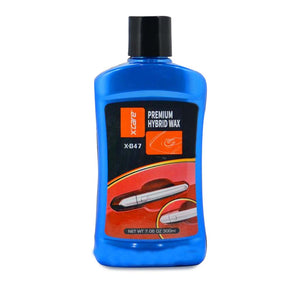 X-Care Premium Hybrid Wax (300 ML)
Features :
Car paint light scratch and swirl remove.
High glossy and shine (Efficient on car paint turn white and color fading)
Clean the shell- lac /resin/pitch.. etc
All around protection.
Instructions:
Light scratch repair. Put the wax on the scratch, wipe with soft towel or sponge until the scratch disappeared, then polish with the towel.
Part or full car paint oxidation repair: Clean the car and wipe dry, put the wax on the towel or sponge, smear on the car lightly and uniform (Please don't work on the full car one shot, should be half square meter by half square meter) then wipe the soft towel until the car paint turn back to original. According to above steps to finish all the car, finally clear the remnant wax on the car.
Attention:
This wax suitable for car paint/steel/glass etc., but the surface must be without seam and the scratch must be light. It not suitable for such as the scratches base paint color, black plastic, can feel the concave., etc.
This wax should not be used under directly sunlight or the surface still hot.
Keep the product under 0-40C condition.
Avoid from enter mouth or eyes, if unfortunately happened, wash with water or see the doctor in time.
---
We Also Recommend
---